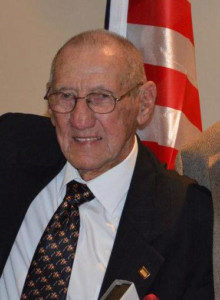 Horace William "Salty" Roberts, founder of Race Track Chaplaincy of America (RTCA), passed away Friday at the age of 85. Salty died at a hospice care center in Hollywood, Florida, located near his home in Cooper City, following a sustained illness.
Salty witnessed and experienced firsthand the needs of what he considered to be his family—the workers who care for horses on a daily basis on the backside of racetracks. Following a dramatic spiritual conversion, he began ministering to track workers in the late 1960s. Salty took the first step toward establishing the first recognized worship services on the backside of a thoroughbred race track in 1970.
His efforts spread to other race tracks and led to the establishment of the Race Track Chaplaincy of America (RTCA) in 1972. From that early beginning, the RTCA today supports chaplains ministering at 39 racetracks and training centers throughout the nation.
"Salty had a real burden on his heart for the people that he worked with," said long-time friend Pat Day, a Hall of Fame jockey and currently president of the Kentucky chapter of RTCA. "He eagerly shared that burden by establishing a ministry to serve them right where they worked and often live—on the backside of race tracks."
Of the passing, Dan Waits, Executive Director of Race Track Chaplaincy of America said, "Countless lives and generations to come have been and will be impacted by the Christ-centered work of Salty Roberts. We stand on his shoulders, and RTCA will continue to honor his legacy by carrying out the mission he established."
Of his efforts to share Christ with racetrack workers, Salty once said, "I never did become a top jockey or a leading trainer, but God has given me something better than all that. He gave me the gift of salvation through his Son, and at the end of my life, when I hear him say, 'Well done, my good and faithful servant,' I'll know I've won my race. That's the greatest honor I could ever receive."
The Race Track Chaplaincy of America which Salty founded continues to serve the horse racing industry today with Chaplains, Councils, and volunteers at horse tracks and training facilities across the United States and beyond. The mission of RTCA remains the same: to minister to the spiritual, emotional, physical, social, and educational needs of those persons involved in all aspects of the horse racing industry.
Salty is survived by his wife, Dallas; six children: Mark Roberts, Lygia Colton (Kevin), Mary McKeever, Chris Roberts (Melissa); Paul Roberts, and Alicia Gargiulo (John); nine grandchildren; and three great grandchildren.
For more information on the work of the ministry that he started, go www.rtcanational.org.