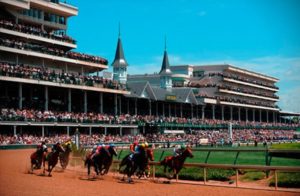 Management at Canterbury Park decided to open the meet this year on Friday, May 5th, Kentucky Oaks Day, one of the biggest days of racing in the country and preceding the biggest day of racing in the Kentucky Derby. By almost all accounts the decision was a wise one.
Canterbury management knew one of the biggest challenges opening this early was adequate staffing during a time of the year students are still attending school. But opening Friday, Kentucky Oaks Day, provided a dry run for employees as a good but not huge crowd of 6762 went through the gates. The lines for the various mutuel machines and tellers and food stands moved well and the overall night of racing went on almost flawlessly. Then, twenty-four hours later, it was time for that huge crowd.
Over 20,000 people poured into Canterbury on Derby Day. The attendance of 20,258 was the fourth largest crowd in the history of the Shakopee track and quite a feat when considering the prevalence and popularity of Advance Deposit Wagering (ADW) sites. The inescapable conclusion is that racing fans enjoy the atmosphere and customer service that are hallmarks of Canterbury Park.
The next two weeks Canterbury will run an abbreviated 2-day schedule of Friday and Saturday racing. Then, on Memorial Day weekend beginning Friday, May 26th.